Flat, Bevel & Slant Markers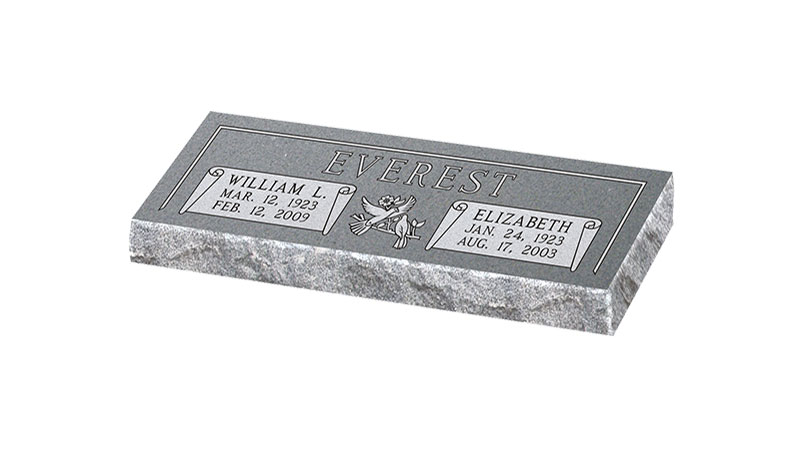 Flat Markers
Flat or lawn level are the most common grave markers and are usually made from granite or bronze and come in a wide variety of shapes and sizes. There are two types of flat markers: flush lawn-level grave markers sit at the head of the grave and ledger lawn-level grave markers lay lengthwise over the plot. Flat markers are set on a concrete foundation.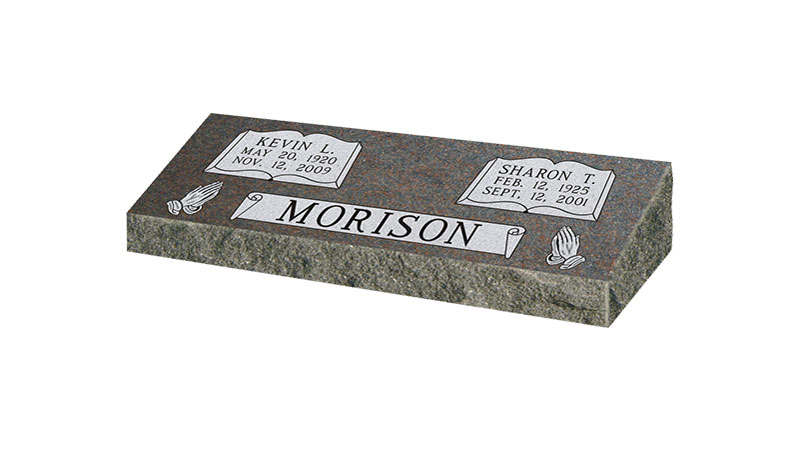 Bevel Markers
A bevel marker, sometimes called a pillow marker because of the gently sloping angle of the face, is a raised marker that rests above the ground. Like a flat marker, it sets flat at the grave site. The back of the grave marker is slightly higher than the front, making it more visible in a cemetery than a flat marker and can be finished with a wider variety of style and design options. Like flat markers, bevel markers come in a wide variety of shapes and sizes and are set on a concrete foundation.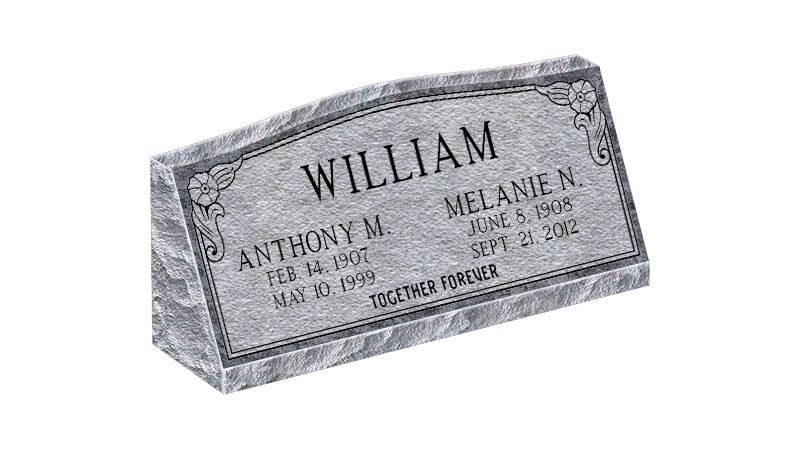 Slant Markers
A slant marker is usually 12 – 16 inches tall. While not tall enough to be considered an upright monument, a slanted grave marker has a wider base that slants towards the back presenting an upward profile that stands out in a cemetery because the granite is cut to sit at a steep angle. It can be placed on a solid granite base or installed directly on a poured concrete foundation. These markers can be finished with rough sides and top or with any number of sides polished.
For each of these marker types, families can usually choose two single markers to memorialize each side of a companion plot or set up a flat memorial to signify that the space is double depth using a larger family name in addition to each first and middle names. Always check with your cemetery for memorial type and size restrictions, identification and design requirements, as well as other information necessary for monument installation. Have questions? Please feel free to contact us.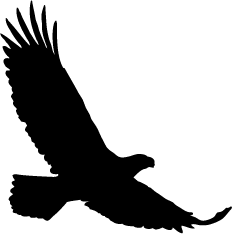 Eagle Memorials
327 West St.
Tonganoxie, KS 66086
Hours
Tue & Wed - 10am to 5pm (Appointments Encouraged)
Mon, Thu, & Fri - Please call to schedule an appointment
Proudly Serving
Lawrence, KS | Kansas City, KS
Tonganoxie, KS | Bonner Springs, KS
Lansing, KS | Leavenworth, KS | Topeka, KS
All of Northeast Kansas & Northwest Missouri